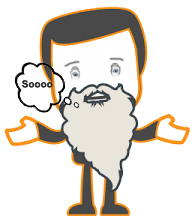 Whenever I sit down to have a conversation with someone, it's always nice to have good topics of discussion.  Now, I know good can be very "relative" in terms of what we all consider to be great topics of conversation.  For me, topics of family, work, weather, etc... (while wonderful topics just by themselves) are starting points to things that can be fruitful if we will let the Lord do his work and if both people can let their shields down and take any masks off to receive what the Lord really has planned for this sit down.
Wait, does this mean every conversation has to be like this?  Of course not!  But, believe me, Jesus wants to be involved in what we are doing in our everyday lives and he wants to see us grow in maturity and wisdom and to walk in freedom so if we are open to such things, he will be more than happy to lead us into deep waters.
The title of this short blog is don't come empty handed.  I often like to come before the Lord with genuine feelings from the heart and to speak them to him in an attitude of thankfulness and praise.  So, the true intent here is to share what I call some "I AM" scriptures that have been fruitful in my times with him.
For instance, he is the way, the truth and the life.  I will begin to talk with him about the many ways I've sought out that have been empty but that I'm so happy to have found him and with that comes fulfillment, peace and hope for the years and ages to come.  I will also express thankfulness that he is the only truth and to build upon him, as the only strong and unmovable foundation, means consistency in my own life.....that I don't have to be tossed back and forth by the storms of life but that I have reason to persevere and hold steadfast to him.  Finally, that he is the life means that just being with him (eating of his flesh, drinking of his blood) and developing the patterns and habits of my daily life to build self control, discipline, etc...all for the joy of being found as one who is seeking and growing in Christ.
Just as Jesus endured the cross for the joy set before him (doing the will of his Father God) I also desire to persevere to overcome the flesh and to be found, not with empty hands, but with a life full of choices that cultivates his presence within me to live spirit filled and spirit led and to let my light shine forth as he truly is my joy and foundation.
Click here to the "I AM" scriptures.  Have a great day 🙂